Chase Total Checking Account Review (2023.10 Update: $900 Offer in Total w/Savings)
2023.10 Update: The $300 checking + $200 savings + $400 together offer has returned! HT: DoC.
Application Link
Benefits
New Checking Account Bonus: $300. See below for the requirements to get this bonus. Offer expires on 11/16/2023.
There is a monthly maintenance fee of $12. You can avoid this by following the steps below.
If you close your account within 6 months, the award bonus will be rescinded.
Chase is one of the largest banks in the US, so their branch and ATM network is vast.
New: You can refer a friend. Click this link to start referring. You will get $50 for each friend who opens a qualifying checking or savings account (up to 10 bonuses per year). Note that your friend will only get the $200 (Checking Account) + $150 (Savings Account) offer.
In order to avoid Chase closing your accounts, please make sure never to do the following:

Depositing an enormous amount of cash.
Regular cash deposits.
Depositing money orders.
Large remittances from abroad.

Regular use of the account for direct deposits, cashing checks, transferring between banks in the US is fine. For more details, please see "How to avoid getting your account closed by Chase".
Bonus Requirements
This bonus is only available for new clients of Chase Checking Account. Those who currently have a Chase Checking Account, or have closed an account within 90 days are not eligible for this offer. Those with a Chase Savings Account or a Chase credit card are not exempt from this offer.
You can receive only one new checking account opening related bonus every two years from the last enrollment date and only one bonus per account. It means Chase Sapphire Checking and Chase Total Checking are now affecting each other.
Direct Deposit (DD) requirement: have one direct deposit made to this account within 90 days of account opening. No minimum amount.
How to Avoid the Monthly Fee (Meet Any One of the Requirements Below)
Each month have at least a $500 Direct Deposit .
Daily balance of at least $1,500 in this account.
Checking + Savings + Investment Account monthly average balance at least $5,000.
Related Accounts
Here is a comparison and contrast on the official website.
Summary
Chase is one of the largest banks in America, with a vast network of bank branches and ATMs. As such, owning a Chase Checking Account is a convenient option for many people. In addition, Chase QuickPay is an extremely convenient function, which alone should keep many customers happy with their Chase Checking Account. Regarding the bonus, some people COULD potentially obtain the bonus merely through opening / closing accounts, however, we do not generally recommended continuously opening and closing accounts for the sake of a bonus, even if it is $600. After all, Chase has really great credit card options, like the (Chase Sapphire Preferred link) and the (Chase Freedom link) so it really isn't worth it to get banned for life from Chase. Please note though, Chase has very strict rules about its Checking Accounts and everyone should avoid using this account for pure cash or large transactions. Please read up on "How to avoid getting your account closed by Chase". The maximum award is $600, by opening a Checking Account ($300) and a Savings Account ($300). This offer has been there for quite a while, but most of the time it is targeted. It truly is a great bonus, so for those of you who haven't gotten on board yet, please do so!
Historical Offers Chart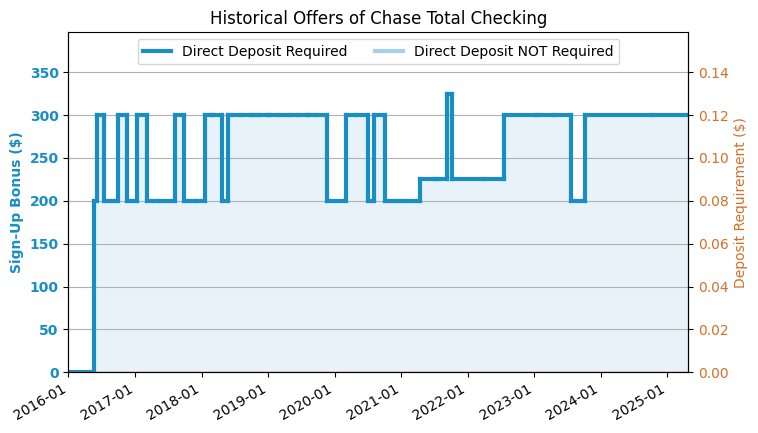 Application Link
---
If you like this post, don't forget to give it a 5 star rating!
[Total: 

8

   Average: 

4.9

/5]